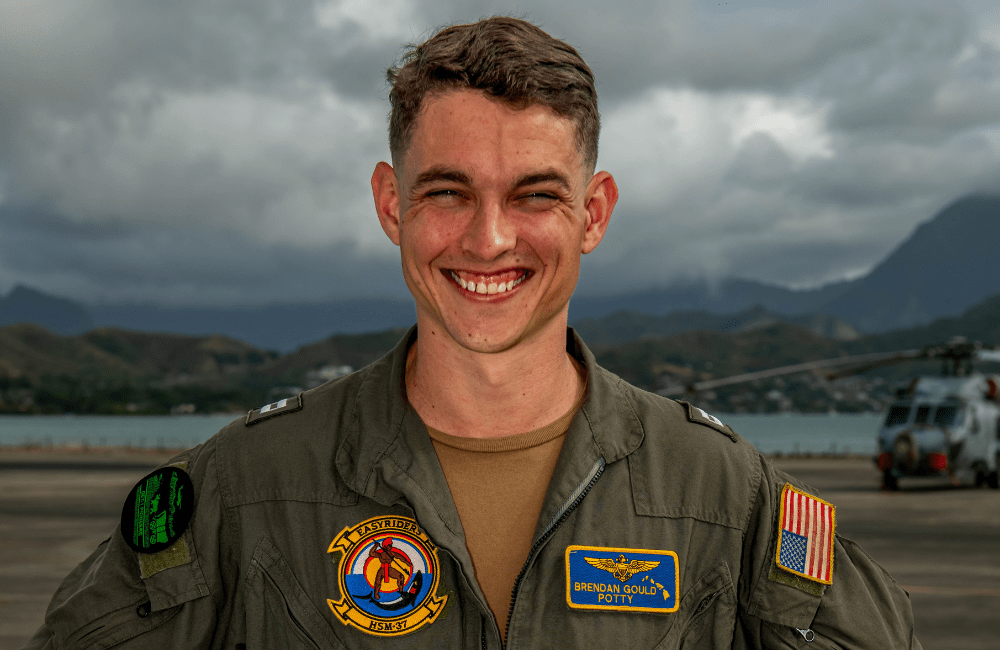 Five years ago, Texas A&M alum Lt. Brendan Gould joined the Navy, and hasn't looked back since.
As a helicopter pilot, he serves with the Helicopter Maritime Strike Squadron (HSM) 37. Even as he flies helicopter missions and continues his impactful service, Gould says he's most proud of having sworn his wife Hannah into the Navy. Gould says inducting someone he loves into his field of naval service was a true honour. Hannah is currently a Navy medical student at Uniformed Services University.
Operating out of Pearl Harbour, Hawaii, HSM 37 conducts sea control operations. Their duties are varied and exciting – they've hunted for submarines, searched for surface targets over the horizon, and even conducted search and rescue operations. Gould flies an MH-60R, a twin-engine helicopter designed for anti-submarine warfare, drug interdiction, anti-ship warfare, cargo lift, and special operations. With a long military history in his family, Gould followed his dream to serve and continued his family's line of service.
"I've always wanted to join the military and joined the Navy because I wanted to go where the best pilots were," stated Gould. "The reason why I wanted to join the military is because both my grandfather served along with many more family members."
The seas are responsible for 90% of the world's commerce as cargo travels from port to port, and countless fiber optic internet cables lie beneath the surface. There's a need to secure these waters that goes deeper than any ocean. That's why Navy officials continue to emphasize that the prosperity of the United States is firmly tied to training sailors and a superior Navy.
In terms of 'global', Gould also enjoys a career where he can see places he never would have had he not joined the Navy.
"Serving in the Navy means I get to work with an amazing group of people on an impactful mission while having the ability to travel the world," said Gould.
Gould is grateful and appreciative of his mentors and family: his parents, Steve and Jennifer, and his wife, Hannah.
This year also commemorates 50 years of women flying in the U.S. Navy. The first eight women began flight school in Pensacola in 1973; they would find immense success and meaning in their duty. Six of these women became known as 'The First Six' for earning their 'Wings of Gold' in a single year. The Navy has expanded roles and positions for women globally. Women aviators soar above the seas as Navy, Coast Guard, and Marine Corps; our country depends on these brave pilots for their service.
Information credit to the Navy Office of Community Outreach